Welcome to the "Heart Warming" Blog Hop!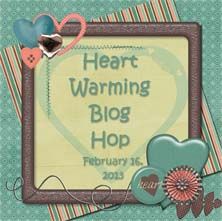 We're so happy you could join us today!
If you came from Robin then you are in the right place. If not please start at Melanie's Blog we don't want you to miss any of the fun!
I've been teaching an after school enrichment classes
and this is the paper crafting class I did this week with the kids
the stamps are from Michael's $2.50 bins
the Rosettes are Tim Holts
They had a ball making this different projects
I made this faux snow glob. I painted the bottle trees tutorial here
(which I love these trees and didn't want to stop using them,LOL)
I used some washi tape to cover the metal lid.
Thank you again for stopping by
I Invite you to become a follower and I look forward to hearing from you.