Welcome to the Spring Has Sprung Blog Hop!
Happy first day of Spring!
Today many fabulous crafters will being you inspirational Spring projects!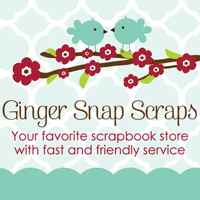 The store will be opening in April.
Cori is giving away a $10 gift card to the store to one lucky winner.
You must be a follower of
Ginger Snap Scraps,
the blog in order to win the $10 gift card.
Ginger Snap Scraps will carry Cricut products, Echo Park, Lawn Fawn, Bazzil Cardstock, The Twinery, Copics, My Mind Eye, La La Land and many more popular brands that you love!
If you came from Ashley's then you are in the right place!
I made a Spring Banner. It's been a while since I made one.

I used some bazzil card stock for the base. I also bought some Moss Roll at Micheal's. I also bought the felts flowers and chicks at Micheal's a few years back. I glitter paper is from American Craft POW paper. My cricut cut through it like butter. I use the Hello Kitty Font. I also used a little of the new Christy Tomlinson paper from Pink Paiselee,courage. I used a little bit of jute to string the banner together.
It's hard to take pictures of banner well at least for me,lol
here are some closer shots
You next stop is Melissa.
We hope you have enjoyed today's hop!
Here is the complete hop in case you get lost:
Cori-
http://createdbycori.blogspot.com
Lucy -
http://love2createitall.blogspot.com
Lisa -
http://handmadewithlove-lisa.blogspot.com/
Lynne -
http://slasewcraftiness.blogspot.com
Beckie -
http://justbcreativecrazy.blogspot.com
Anita
http://www.anitaandbugs.blogspot.com
Charity -
http://adamsacres.com
Nicolette-
http://beyondscrapin.blogspot.com
Theresa -
http://scrappinginheels.blogspot.com
Ava-
http://scrapbookdesign4u.blogspot.com
Liz -
http://tryin2craft.blogspot.com
Ashley -
http://theglamoroussideofscrapping.blogspot.com
Liz Mullen
http://scrapiliciouslife.blogspot.com
Melissa Pinter-
http://pinkpolkadotscrapping.blogspot.com
Shannon-
http://shannonleffew.blogspot.com
Sylvia -
http://bellascrapbookdesigns.blogspot.com